Are you an aspiring entrepreneur looking for pet franchise opportunities? Look no further than BoeFly. As a leading provider of financing solutions, BoeFly has established itself as a trusted funding partner for some of the biggest names in the pet industry. With a track record of successfully funding hundreds of loans for franchises such as Pet Supplies Plus, Scenthound, and Central Bark, we're well-equipped to help you achieve your dream of owning a pet franchise. Join the pack and discover how BoeFly can assist you in financing your pet franchise venture.
Find the Right Pet Franchise That Fits You

The pet industry is booming, and there has never been a better time to invest in a pet franchise. With more and more people becoming pet owners, the demand for pet products and services is constantly on the rise. Whether it's pet supplies, grooming services, or doggy daycare, there are countless opportunities to tap into this lucrative market. However, starting a pet franchise can be a lengthy process, especially when it comes to securing the necessary funding. That's where BoeFly comes in. With our expertise in pet franchise funding and our track record of success in the industry, we can help entrepreneurs like you navigate the lending process and secure the financing you need to launch your dream pet franchise.

Get Ready to Launch: Steps to Pet Franchise Ownership
Once you've made the decision to launch your pet franchise, there are a few steps you will need to complete with the franchise itself. They typically look something like this:
Steps to ownership (will differ by brand)
Apply for franchise ownership
Receive and review FDD
Attend a discovery day meeting
Sign agreement
The next step is to apply for financing through BoeFly. Our streamlined process makes it easy to get started. Simply fill out our online application, providing the necessary information about your business and financials. Our experienced team will then review your application and match you with the best lenders for your specific needs. From there, we'll guide you through the rest of the process, helping you gather any additional documentation and ensuring a smooth approval process.
Let BoeFly Streamline the Lending Process for Your Pet Business
At BoeFly, we understand that navigating the lending process for your pet business can be overwhelming. That's why we are committed to streamlining the process and making it as easy as possible for you. Our experienced team will guide you through each step, from the initial application to the final approval. We have developed strong relationships with lenders who specialize in pet franchise funding, ensuring that you have access to the best options available.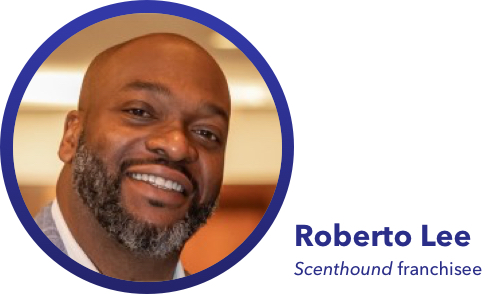 "BoeFly was a great partner in the process of finding a lender to fund my business loan. I'm excited to have closed my business loan and successfully opened my first Scenthound franchise location." – Roberto Lee, Scenthound
Whether you're looking to open a pet supplies store or a dog franchise, BoeFly has the expertise and resources to help you secure the financing you need. Trust us to make the lending process smooth and efficient, so you can focus on launching your dream pet business
For more information, fill out the form here to speak with a BoeFly representative about your financing options.