Financing your franchise? Here's some easy-to-understand advice from our experts.
Struggling to secure the financing you need to start or grow your franchise business? As an independent Franchise Owner, you're not alone. Many small business owners face the same dilemma when trying to raise funds to expand their companies, whether through an SBA loan or otherwise. If you're looking to find out more about small business loans and how they can benefit your franchise, keep reading and check out our FAQs below.
When investing in a franchise, when is the best time to get started with financing?
For many entrepreneurs, financing is one of their biggest fears when pursuing a franchise. In general, it is better to start earlier than later to avoid any problems with financing. We recommend starting the loan process once you have made the emotional decision to move forward with purchasing a franchise, don't wait until the Franchise Agreement is signed. Think like a project manager – you want to always be mindful of project
milestones. For instance, waiting for permits, or when your contractor can start. When possible, you want to keep your milestones to a minimum – which is why it's helpful to start on financing before you need the funds. Here at BoeFly, we know that small business financing can be complicated. We want to help you learn about financing your franchise from experts with first-hand experience in securing and managing a variety of loans.
What is an SBA loan?
The SBA, or Small Business Administration, was created to help ensure that small businesses have access to loans, guarantees, and services from private lenders. There are two basic types of SBA loans: a 7(A) loan and a 504 loan. The lending bank and the experts at BoeFly can explain the differences and fit you with the right one. While there are some differences between the types of SBA loans, most require substantial paperwork and approval from various parties before any funds can be released. You may also need collateral, though there are cases where it's not always required. The lending bank will expect this to be pledged if you have it. The experts at BoeFly can assist you with the entire loan process and answer any questions you may have about which SBA loan is right for you and your business situation.
Will my loan interest rate be fixed or not?
That's a great question.
SBA loans are structured as variable rate products almost as a rule, and although the SBA rules allow for a fixed rate, they are exceedingly rare. Fixed rates should not be assumed, only very well capitalized business owners would be considered for a fixed rate. Even fixed rate loans likely come with a reset after 5-years; unless there's real estate involved. The experts at BoeFly can help secure a rate you're comfortable with.
Loan interest rates for houses and small businesses are not the same.
Many first-time borrowers have experience with mortgages and assume that business loans will have the same process and particulars. Both home and business owners have options when it comes to borrowing money: a mortgage or small business loan, for example. But while their costs are comparable at first glance, there are some fundamental differences between them. SBA loans are completely different and that can surprise some first-time borrowers. An interest rate of 7% over 10 years is historically low for a Small Business loan but can seem high if you are comparing it to a home mortgage which is just not apples to apples. We suggest working with an expert. BoeFly can help you navigate choosing the best loan at a favorable interest rate.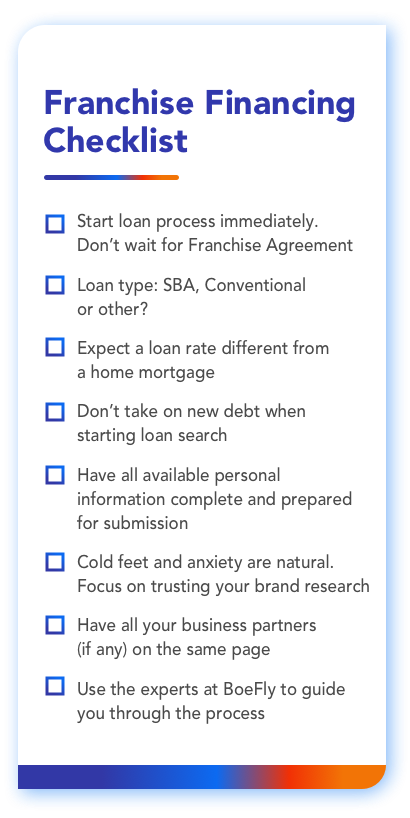 What are some reasons a loan isn't approved or doesn't successfully go through?
There are several reasons that a loan might not be approved or could end up failing. For example, you can be denied for submitting incomplete information, not being able to verify your income, existing debt and credit score exceeding approval limits, and more. Once the process has started, do not make any bigger purchases (especially on credit). This is one lesson that can be taken away from a mortgage process. You must keep cash and credit status quo until after closing. It's important to feel secure with the brand you've chosen. Cold feet and anxiety are a real thing. Focus on trusting the research you did and remember why you chose that brand, to begin with.
To have better chances at successfully getting approved for a small business loan, the BoeFly experts can help set you up for success. Get started!
© 2022 BoeFly Inc. All Rights Reserved.